Alternate Titles:
In Which I Moralize

Mandakin is a Member of Turtle Bay

Eulogy is the GM of Turtle Bay
The disguise kit can be a beautiful thing. I took the name Zarek, donned a blue robe and white wizards hat, and set out in search of adventure just West of Vesper. I had barely even left the city guards when I found two members of
my old friends B_D
, who seem to have made something of a reappearance in Vesper as of late. Cern and sheaster were their names.
sheaster approached me and asked me if I was new. Of course, everyone knows that I am new. I just started two days ago, but pks took my gold. I digress. I explained my situation to him, and we set out for for adventure. And adventure we found! A most fearsome pk by the name of Mandakin, a member of
Turtle Bay
(don't forget that), passed by us as we talked, when we left he dropped a blade spirit in our midst and set upon us with a short spear. We were certainly doomed!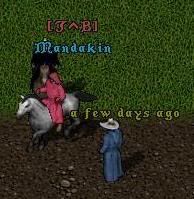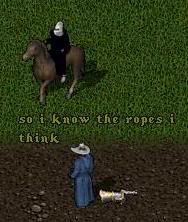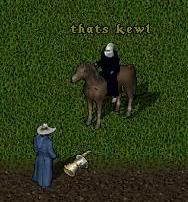 Well, I guess we would have been doomed if Mandakin were anything other than the most incompetent player killer in the history of all of Ultima Online. My two friends from B_D dropped him quite quickly. We discussed his demise while his ghost said things the meaning of which we could only guess. Eventually, the B_D members took pity on him and resurrected him. At which point he demanded his goods be returned...
or else
.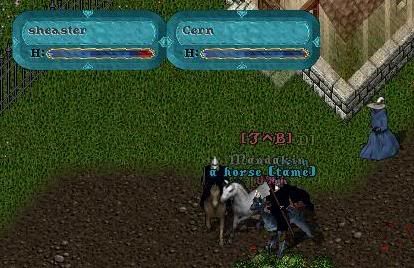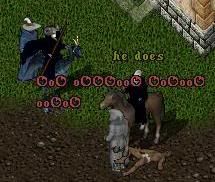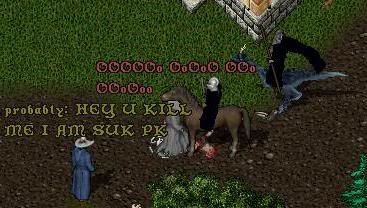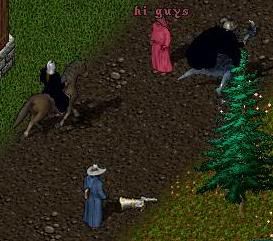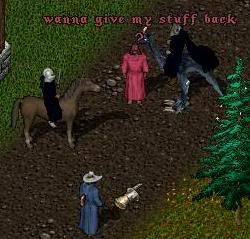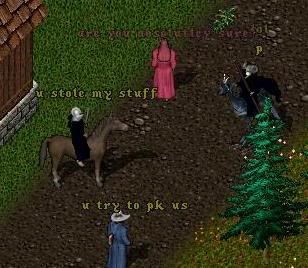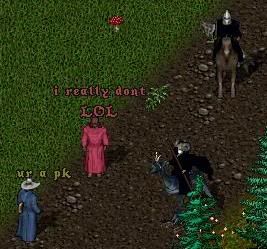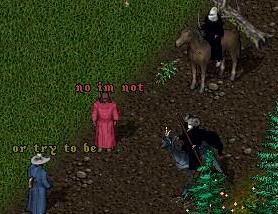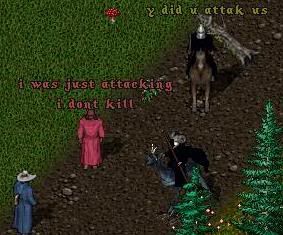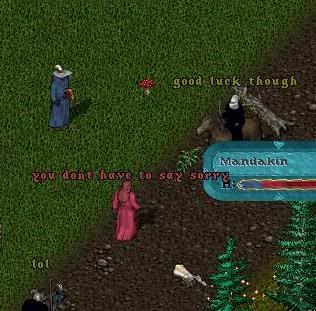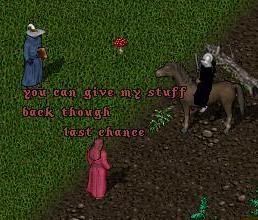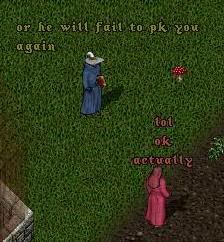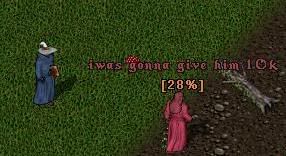 I guess he didn't like the things I said. He comes back soon afterwards, having bought an entire bag of reagents and a new spear, and attacks me. ME THE POOR DEFENSELESS NEWBIE. Of course, I cannot let such injustice stand. My reflect hits him with his own explosion, while two energy bolts go through. I suffer around five to ten damage, while he loses half of his health. This, I guess, was his first clue that this wasn't going to end well for him. My friends from B_D didn't quite realize yet what terrible secret this unexpected turn was a sign of.
I haven no evaluate intelligence on this character, so I realize after a few spells that it would be faster to just paralyze him and steal everything in his backpack. So I do. He flees to the portion of Vesper near the Inn at the Western side of the Vesper Strip. I follow and give him a poison. He has nothing left to take, but I can't leave good enough alone. I decide it is time to let it all hang out. sheaster and Cern are devastated.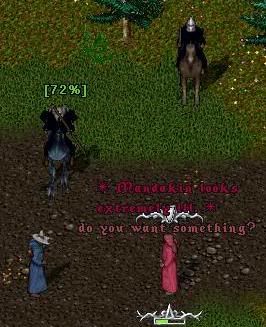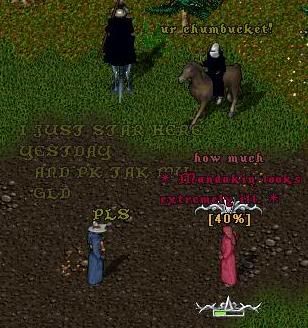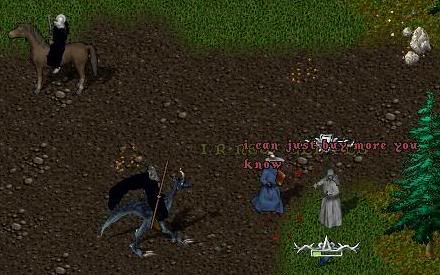 At this point, Mandakin leaves only to return with a new bag full of reagents. I pull the same routine, as he is still gray to me. He decides that best thing to do is to just hand me the pouch of reagents, which I gladly accept. He taunts me with his immense wealth though: He has so much gold that he can afford to buy AN ENTIRE OTHER POUCH OF REAGENTS! My pals in B_D are still in shock. For reasons I cannot fathom, they suddenly do not like me and begin to side with their would be killer. C'est la vie.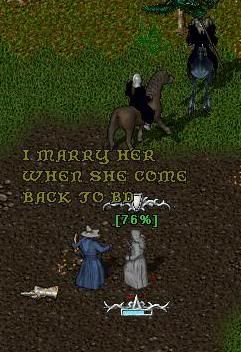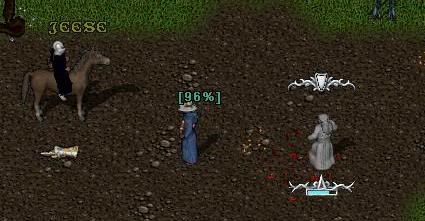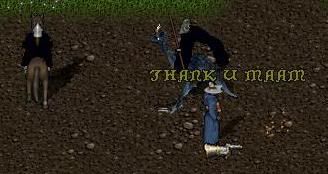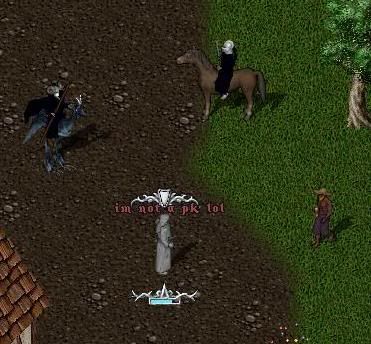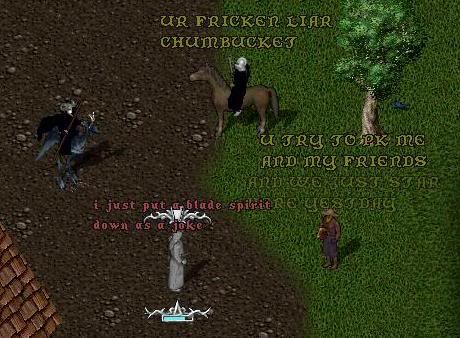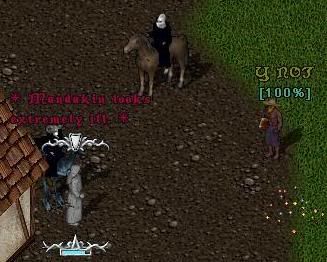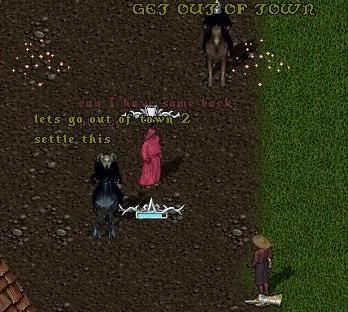 They are heading back to Vesper bank. I recall over to meet them when they arrive. For reasons I do not know, Cern gives Mandakin a blackstaff. I try to help myself to it, only to be taken down by a guard. My other stealther is waiting to loot me should things go bad, which they have.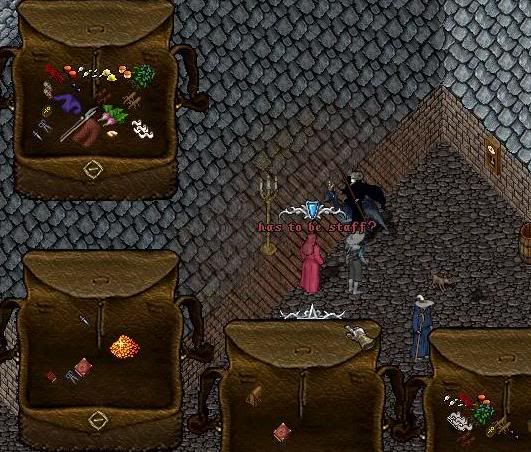 It is at this point that this ceases to be a heart warming story of the true meaning of friendship a la
Milo and Otis
, and instead concludes with a sobering reminder of the nature of our fellow UO players. I have censored the offending remarks, but I will say that they are of a racial nature and are very unpleasant. I should also like to remind you that Mandakin is currently a member of
Turtle Bay
, a guild who have a city in the area also known as
Turtle Bay
. This guild,
Turtle Bay
, is a large guild headed if I am not mistaken by a person named
Eulogy
.