Although I am not at liberty to divulge my methods, I today became aware of a transaction between Monika (aka princesspeach) and HI IM MIKE. My dear friend GuardianKnight was to act as broker. The transaction involved the removal of one keep so that another might be placed in its stead. I arrived at the designated location prepared for action. It was not long before action was afoot.
I had hoped that a keep deed would be carelessly placed in a bag. Alas, there was no such deed. At the key moment, I search through a series of trapped pouches. I assumed at this point that the jig was up. Sure enough, Monika cast reveal, but I quickly stealthed out of range. I decided that a new strategy would be called for.
The keep was dropped. I stealthed out to the middle of the newly open area and put out a call over the guild chat: Someone bring a character with a house deed! Some fine property has opened up on lovely Marble Island, right next door to Monika.
It wasn't long before one of my associates heard the call of duty. He would be there as soon as humanly possible, but I would have to hope I could go unnoticed long enough. Monika and GuardianKnight were perplexed. The keep just wouldn't fit. They tried it from the front. They tried it from the back. They tried it from the sides. There was just two seconds ago a keep there. How could a new one not fit? At this point, a fellow by the name of John arrived.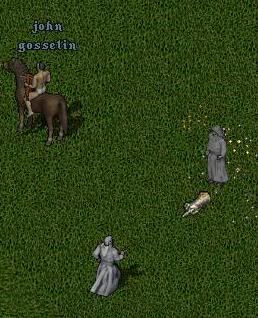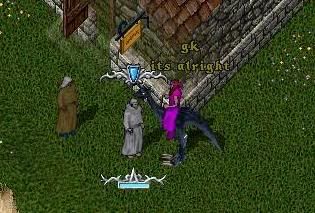 Now you know that at chumbucket and Associates one of our mottoes is
We don't do it for the loots
, but we are happy to get said loots. (Our other motto is
When you think home security, think chumbucket and Associates
.) So I made a proposition.
Monika feigned a lack of interest, while GuardianKnight insulted me with his offer of 50,000 gold. As I said at the time, a pittance. In comes HI IM MIKE of mYm (aka Matron Yoinked MyKeep). He indicated some interest in purchasing the plot of land. I don't blame him. It is a fine location. But it is not for me to decide a price.
HI IM MIKE expressed some skepticism regarding the desirability of the location.
He saw the wisdom in my remarks, while GuardianKnight saw only red.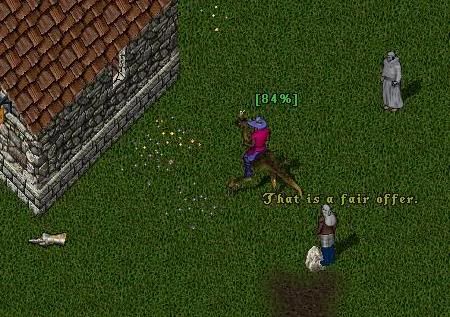 With initial negotiations out of the way, he and GuardianKnight were quite curious about one thing: How did I know that all of this was going down? How could it be that I would be in just the right spot, at just the right time?
HI IM MIKE was unsatisfied with my answer. He left, only to return in the form of Rufus, a thief.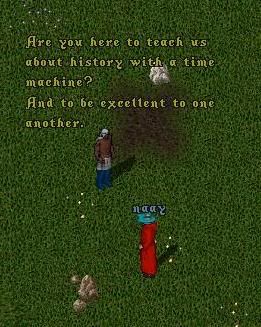 Monika soon came back out. I informed her of the potential real estate deals in her neighborhood. She was eager to make an offer.
Awkward!
So there you have it, folks. She is quite happy as long as someone doesn't move in next door. As I said in the screenshot, I am going to suggest to my associate that he put it up for auction:
House and land on fabulous Marble Island, next to a gorgeous marble temple and the tower of one of the shard's most feared yet beloved warriors. Perfect for young couples looking to build a future together.
I'll keep you updated on what he decides.
Postscript
Accusations have been leveled. I will only note that Derrick is not crazy enough to make me GM, counselor, forum moderator, or anything else. No further comments with be forthcoming on these matters.
GuardianKnight wrote:
I'm sure there will be screenshots soon but chumbucket popping up at a house transfer that i wasn't even sure where it was until the last minute is too much of a coincidence. Either we have a mod here that is abusing his power or chumbucket has psychic powers.

I really better not find out that chum has a gm or counselor character that can go invisible and locate people.
The Batman wrote:
The suspects for the character known as Chumbucket have been narrowed yet again.

Suspects:
Bigoud as number one suspect, but he could be any of the Ca.
Monika, the victim is #1 suspect always until proven otherwise.
Blackfoot. Very creative with roleplaying and acting. Matches profile.
GM or Counselor - Really not likely but chumbucket has a weird knack for being in the right place at the right time. Could be sitting invisible somewhere tracking people.

Moderator of forums- watching pms to see when deals are going down.

Just turn yourself in and make it easy on yourself. Otherwise i'm gonna punch you in the throat and turn you upside down on a tall building and punch you in the crotch over and over until you talk.
<WoozyRargar> how did u know that kid bought the house
<chumbucket> I am chumbucket.
<WoozyRargar> lol naw
<chumbucket> It's true. I am!
<WoozyRargar> u either a have no life and camp that all day or b are a forum/irc mod or c you are guardian knights buddy
<chumbucket> No comment.
<WoozyRargar> or your monika lolol
<chumbucket> No comment.
<GuardianKnight> be honest....howd you get there?
<chumbucket> I am chumbucket.
<GuardianKnight> i want detailed road map
<chumbucket> I think that says it all.