It began at the West Britain Bank, as so many things do. Going by the name Yarin, I recalled to the top of the bank, only to find a gate. The gate lead to pirates! These pirates were looking for trouble, and I knew they would board a boat in order to find it. So when the chance presented itself, I hopped aboard.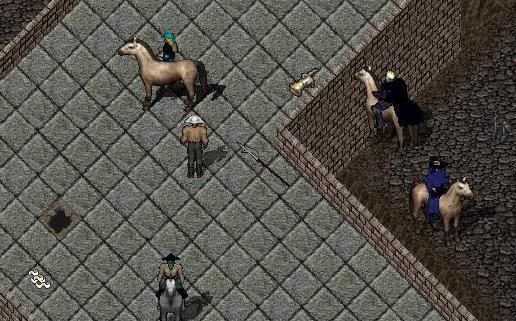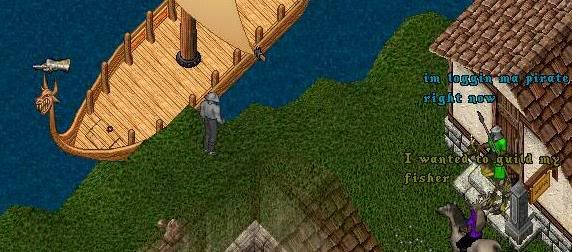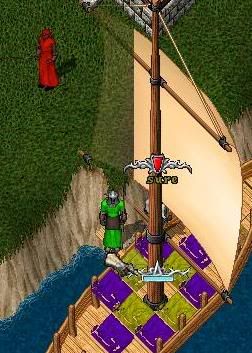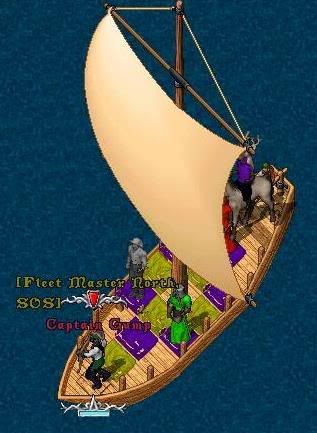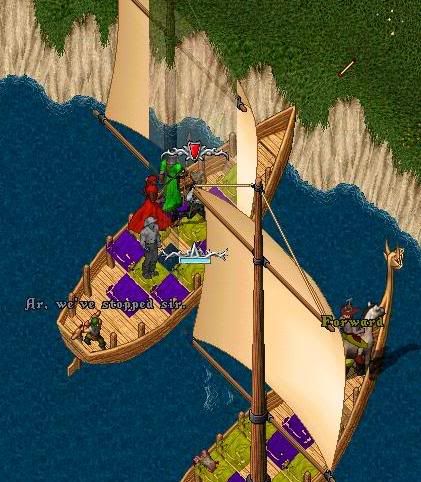 We sailed from the pirate area to Cove, where the pirates engaged members of PoV. I watched anxiously, trying to figure out how I could steal the boat. I never quite figured it out. Eventually, they noticed my presence. I fled the scene.
I found myself back at West Britain bank and next to another gate. This time the gate lead to Dagger Isle and a one room house there. I worked my way inside and took a very modest haul. So far, nothing to write home about. I would have simply posted a couple of screenshots to the cA Home Security Notices thread if it weren't for what happened next.
At the edge of my screen, I noticed an odd sight: the name of a B-D member and the names of several tamed animals. I quickly realized what was happening. The B-D member was bringing sheep to a building for the purposes of wool farming. I knew he would most likely gate the sheep in, rather than bother walking them up. I knew this might very well be a good score.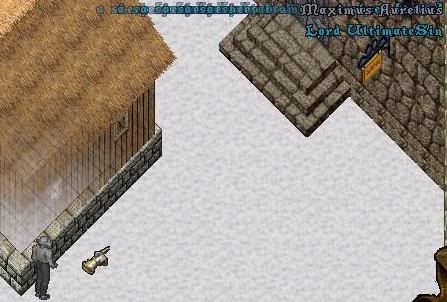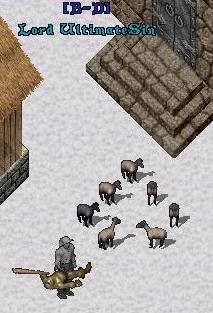 I was right: I made it in through the sheep gate. But now I had a problem. The sheep were pinning me in. I noticed, however, that the boxes keeping the sheep in place were not actually locked down. As soon as the coast was clear, I lifted the box and made for the stairs.
The second floor of the tower had very little loot. I made my way to the first floor. The back room was unlocked and inside were many, many boxes each full of magic armor, magic weapons, magic wands, magic jewelery, and a treasure maps. It looked like this might work out quite well.
However, I had a few close calls. For one, I was revealed. I rehid immediately. Nothing ever came of it. I have no explanation for how I remained unnoticed. I gated in an associate, Jamshid, to help with the moving. Being new at the house looting game, he made some mistakes that resulted in his coming unhid. By this point, I believe, the characters in the house were obviously afk, so nothing bad came of it.
We unloaded the goods at a prearranged location. We decided to make it a full loot. Right here my instincts said not to do it, that it was a mistake to get greedy. I should have listened, but there was still a good bit of loot to be had, even if we already had the best parts. Plus, there was the matter of composing a Home Security Notice.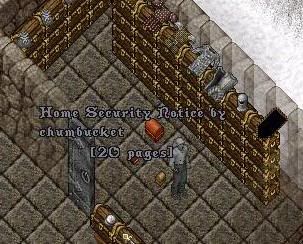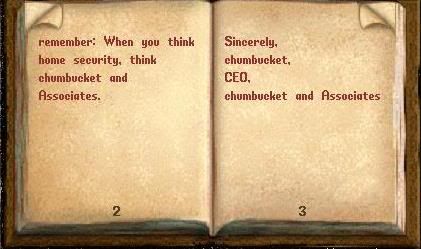 After dropping off the notice, we moved the last of the first floor goods. While doing so, I notice that the house next door to ours is occupied by someone who was not there before. I have a moment of dread. We had left the front door unlocked at our dropoff point to make it easier to move the goods. I ignore that feeling and return to the tower. Jamshid notices a box of wands we had overlooked. While he moves those, I decide to go upstairs and grab a pile of ingots and some boxes of scrolls. Having collected the very last of the loot, we return to the dropoff point, triumphant.
Or not.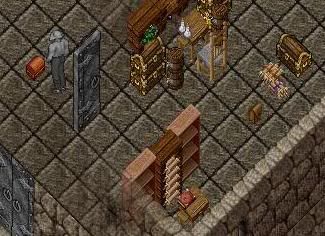 Sure enough, when we get inside, I notice that the previous loot--the good loot!--is gone. I immediately suspect the neighbor. I walk over to have a friendly chat, but am met with LEET PVP. In between, Corp Pors he informs me that it is my fault for leaving the door unlocked. What can I say? He was right.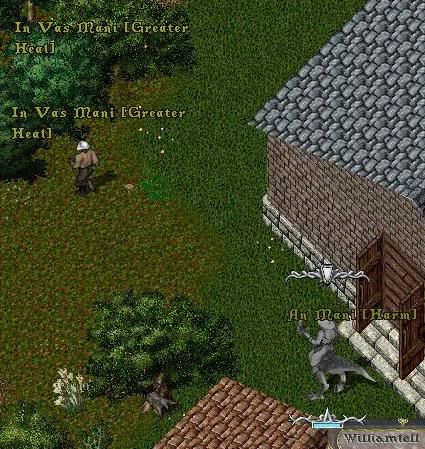 I returned to the safehouse despondent. We have done all this work for very little loot. That's the way it goes sometimes. You do your best, and someone beats you regardless. In life, we have to accept these sorts of things. Sometimes, there is just nothing you can do.
But we were not ready to give up. I wander over, only to be banned. Jamshid, however, stealths in. He manages to grab a good number of weapons back before he is discovered. Clearly, security at our neighbors isn't very good. So I bring in a second chumbucket. I stealth over, bring back the banned one, and we harass the neighbor until in an unguarded moment I am able to stealth in.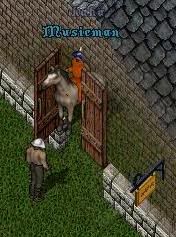 Unfortunately, he had placed a table in front of the door to the room where our loot was being held. At this moment, another of my associates, ugodatwayIgodisway (or something), appears. He and Jamshid are able to lure the home owner out just long enough for me to move the table without being noticed. (Jamshid pulled the old cast-a-blade-spirit-in-the-house-and-let-it-kill-you-when-they-ban-it-so-they-will-come-out-to-loot move. Seriously, that was the plan!) I make it to the back, find our loot, and eventually gate it to a location only a screen away. We quickly move it in the house and ban those who try to take it back.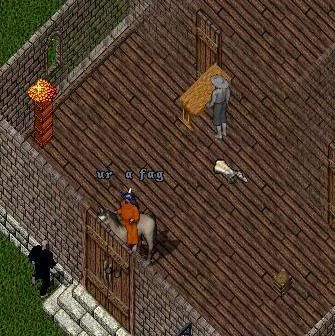 We got the loot, we got the loot looted, and then we looted the looted loot back.
All told, it was a miracle.