Today is a proud day, for I have established a guild. And it is no ordinary guild. It is a guild for those, like me, who practice the bardic arts. The Bards of the Second Age!
I had bought the guild deed earlier this week, but only to find out that I could not place a stone in a house I do not own (rather than merely co-own). I barded up the gold and placed a house today. And I immediately set in on using my musical prowess towards great and noble ends.
I took a selection of my finest chumboxes and placed them in the guildhouse of the BSA. Then I went about business. I set out to the bank with only my reagents, lute, rune to the BSA guildhouse and the key to the BSA guildhouse. Unfortunately, I mistakenly healed a skeleton, which made me a criminal. I feared for my life.
And fear I should, for none other than Kevorkian, a most skilled and fearsome warrior, set out to dispense the sort of justice normally reserved for Texas. I was quickly dead and looted.
I returned home, when suddenly Kevorkian appeared. I believe he had realized the mistake he had made. I was not some petty Texas horse thief, but rather a kind and loving bard, friend of the animals and defender of the meek. He would return my goods, apologize for the misunderstanding and then we would have tea and crumpets. But my security devices fell him as he tried to drop off my goods in a box that I would be sure to find them in. (He didn't think I was home, and I didn't speak up fast enough.)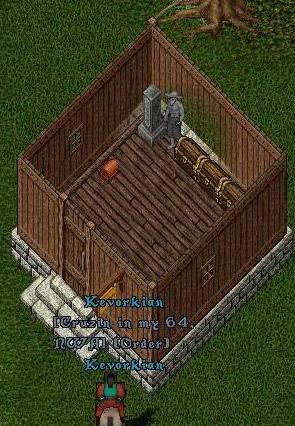 I came out and chanted the mourning hymn of the Bards of the Second Age. I put away his power war axe, reagents, runes, potions, etc., for safe keeping.
Next, I decided to set out for adventure. I grabbed the reagents, rune and key that Kevorkian had so gallantly returned at the cost of his very life, and set out to Destard. But I went via the rune library on Justice Island. And there I encountered the dread fiend known as au pach, a murderous murderer of the worst variety. It took him some time, but he eventually ended my long struggle to stay alive. And he took my rune.
His friend jubei showed up with him via moongate. They meant to rob me or worse! But never fear. My patented chumboxes functioned as designed, and the murderous murderer was laid out by a fiery cacophany of justice and bardic valor. All praise to bardery!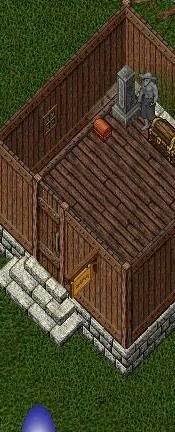 It seemed that my day--the first, glorious day of the Bards of the Second Age--was coming to a close. I went to the bank to set my affairs in order, but who should I see other than Kervorkian's twin brother, a fellow bard named i.play.musik. I had just been to a costume party, dressed as au pach and going by the name Bane. Kevorkian failed to recognize me even as I came quite close to him. As I walked away, I noticed a key on the ground, took it and recalled home.
When I arrived home, it hit me. That key must be Kevorkian's. Why else would it be at his feet. He had dropped it! I knew I had a rune to his home from his valiant attempt to return my goods, and one good deed deserves another, as the man says. I found his home and entered. I was leery. He might have traps of justice of his own. But after looking around a bit, it was clear that he had no form of security at all. I decided that, in accordance with the highest standards of the Bards of the Second Age, I would have to move his belongings for safe keeping. If I were able to gain access so easily, who knows what dread fiends might enter, take all his belongings and sell them on eBay? And so I am nobly storing his many, many fine goods on my vendor, for safekeeping.