I must say, these lower socioeconomic PvP minorities are really a product of their environment, and that is their own demise. I'm sick and tired of being bullied by these non-hally cycling professional gamers! That being said, I must confess that I'm just an adventurer at heart.
I heard through the grapevine that the trammel participants of NIP (also known just as NIP) were bashing players from the safety of West Britain bank's roof. Well, surely I wanted to socially study these inner orifice individuals. Knowledge is power, right?
Well, apparently by the time I caught up with the events they had moved on. Being the smarty mcsmart pants that I am, I went to check Marble Island to see if they were staring at each other and sometimes slowly moving with halberds in their hands. Unfortunately, twas to no avail.
What's that? Oh my. Two murderers from the guild PEE came storming out of their house at mister Halieus.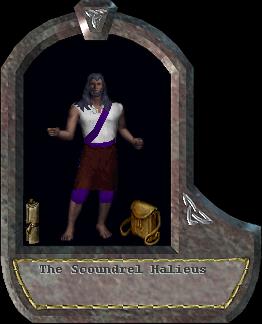 Doesn't he look like the kind of fellow who wants no problems? Unmounted and very, very scared, I hid. What else was I to do? I have such ninja skills, so I pwnzored those murderers! Ha!
Fortunately for me, I had a spare rune to said Marble Island nearby for a character who doesn't specialize in hiding. They soon retreated from 2v1ing me, clearly out of mercy or something along those lines. But, I prevailed? Well, a picture says a thousand words so here's a 9,000 word comedy skit.
So at this point I began hanging out inside, enjoying their decoration and things of that sort. But, I had to escort valuable materials out for myself. I am of the upper echelon and not socioeconomically challenged. It's kind of my duty to take from the poor.
However, these murderers had the audacity postmortem to bring a fierce competitor to slay me. Ghoul's touch equipped, fear was no issue on his part! I hardly escaped with my life!
A socioeconomically challenged horse decided it would rather come with me, so I took it home to do chores and things of that nature. Unfortunately, something killed the newly rejuvenated Maximus. I'm not sure what. Unimportant at best.
I remarked "its funny tho!" Fortunately, I'm apt in the language of the socially inept.
Last but not least, the prize of my adventures!
Until next time, stay safe Brittanians!

_________________


Denis the Menace wrote:

Vega for me you are just exploiting the uosa system with your vanq charged spellreflect recall invis pink boobi pvp trammel style which never existed on osi, so stfu.




Jakob wrote:

Regardless of douchebag, fair player or Vega.