Disgrace to UO: A Tale in Three Parts
The events depicted are real. They have taken place over the past few days, chiefly near East Britain bank. The names have not been changed. This is the story of my time with the Brigade of Oblivion guild, one of the largest and oldest of UOSA guilds. As you will see, they are not but thieves, brigands and murderers.
Cast:
chumbucket - The hero of our story, friend to the animals.
Ireland's finest - A bard of valor and renown.
Francois Toulour - The shard's quietest stealther.
Matron De Winter - Bingo patron.
Gumbo - Traveling righter of wrongs.
DarkestTear aka DarkestOne aka IM UR FATER - The vilest murderess on the shard.
Mustang Muller - Accessory to murder.
Gareth Bryne - Puppy killer.
Van Helsing - Slack-jawed gawker.
Geldorn - Foul mouthed young lad, wanted by the guards for attempted leet pvp.
Mazahrat - Some guy.
Darkradiance - BoO puppetmaster, a phantom of IRC.
Part 1 - DarkestDiscovery
Our story begins innocently enough. I was at the East Britain bank, minding my own business, when I noticed a young lady--DarkestTear was her name--who had dropped a rune. Being a noble bard, I attempted to return the rune, but to no avail. "Mayhaps," I thought, "she will have another rune to the same location. It is marked as 'house' after all. I shall go wait for her! When she comes home, I can return it!" Alas, I got more than I bargained for.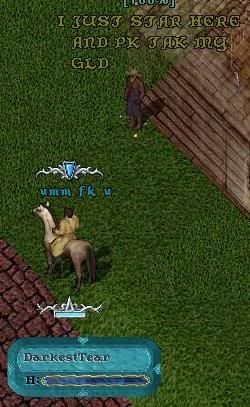 When I arrived at my destination, I found the corpse of a young lady named IM UR FATER. She had been freshly slain; I began to worry. I seemed to have stumbled upon a band of murderers. This woman who dropped the rune--this DarkestTear--she is not what she seems. And this guild she is in--Brigade of Oblivion--it must be an association of brigands and sadistic fiends! I could not flee. Innocents may need my assistance.
As though a warning from the stars, a message arrived in IRC from Darkradiance, who I now believe to be the leader of this band of villains. He asked if I had found a rune, as one of his guildmembers had misplaced it.
[20:26] Session Ident: Darkradiance (WildIRC, chumbucket)
[20:26] <Darkradiance> lol, nice steal
01[20:26] <chumbucket> ?
[20:26] <Darkradiance> care to name a price for those runes back?
01[20:26] <chumbucket> what rune?
[20:27] <Darkradiance> there not mine, just a friend
01[20:27] <chumbucket> i'm not sure what you mean, i've been stealing runes since i logged on
01[20:27] <chumbucket> who are you in game?
[20:28] <Darkradiance> ya darkesttear
[20:28] <Darkradiance> if you mixed them up no biggie
01[20:28] <chumbucket> oh the one i just tole
01[20:28] <chumbucket> only got one
01[20:28] <chumbucket> called house
[20:28] <Darkradiance> lol ya
01[20:28] <chumbucket> to nowhere
[20:28] <Darkradiance> oh really?
01[20:28] <chumbucket> already marked over it
01[20:28] <chumbucket> sorry
[20:28] <Darkradiance> wtf was he bitching then
[20:28] <Darkradiance> np
[20:28] <Darkradiance> sounded like you stole more, sorry to bug you
[20:28] <Darkradiance> good day
01[20:28] <chumbucket> yep
Session Close: Mon Apr 20 21:15:36 2009
The place I had recalled into was empty, save for the dismembered corpse. I looked around and found a house. I decided to see who might come home to it. It was no surprise to see the foul murderess arrive. I decided I needed a closer look, so I followed her in while remaining out of sight. But I slipped up, and she noticed my presence. I grabbed two nearby boxes as I was expelled from the house. Sorting through the goods provided few clues: junk armor, junk weapons, about 1000 gold and 300 reagents. It struck me then that the house itself was almost entirely empty save a few crates. She was moving in. I had a chance to thwart her murderous designs before they came to fruition.
On a different account, I made my way to East Britain bank once again in order to scope out the situation. When I arrived, I saw a moongate. Through it I went, as is my natural inclination. On the other side, I was shocked to find four members of the Brigade of Oblivion. What luck! I might be able to learn more of--and perhaps even prevent--their diabolical machinations. By their discussion, I gathered that they were at this location (a shoreline in an unknown city) to place a ship, no doubt a ship to be put in service of brigandry and immorality. I decided then and there that I should attempt to take the ship, even if it meant my own life was forfeit. Unfortunately, I was quickly revealed. One of their number then made an astonishing comment: "How did I know?" They had expected me. They knew I was on their trail, that my encounter with DarkestTear was no mere fluke. I would have to be extra careful from here on out.
Eventually, I returned to the lair of murderess, this time in company of fellow bard Ireland's finest. We would get to the bottom of this. Once again she opened her door, but to my astonishment it was to let in her earlier victim--IM UR FATER. It soon became apparent that she was in fact her own victim. I find it difficult to convey my shock at this new depravity. I marched into her home, more determined than ever to put a stop to her plans and then to turn my sights to this Brigade of Oblivion.
Unfortunately, I was once again removed from the house. Nor was Ireland's finest ever able to make it in either. But at this point, DarkestTear had had enough and set out to slaughter us. Her magery was surprisingly weak. I withstood a number of ineptly thrown energy bolts, poisons and flamestrikes. But you cannot underestimate such a fiend: She summoned a demon from unknown realms and set it upon me. Alas, I was unable to stand up to it. Before I died, I noted to myself that her neighbors must themselves be quite the lovers of justice, as they cheered on my efforts from the top of the tower they had placed next door. Eventually, they too tried to enter the abode of DarkestTear. I, however, took my leave. I would need time to recuperate and plan.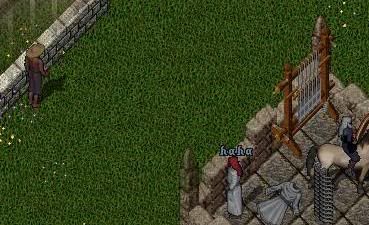 TO BE CONTINUED in
Part 2 - DarkestDeath