I am still technically on hiatus from UOSA, but I troll the forums quite a bit. According to those very forums, current cA guildmaster Matron de Winter had managed to steal a keep deed from none other than the LEETest of OMG PVPERS to ever grace the shard, -F-.
Finesse wrote:
yes its true we are quitting/have quit.

this is due to losing a keep deed and due to matron de winter.

this is a sad day for this shard and a sad day for us but we refuse to play with this lameness.

cya.
Myself, I didn't think it was such a sad thing. I thought it was funny. Different strokes for different folks, I suppose. This bit of hilarity moved me to play a night. I was saddened to learn, however, that -F- had been
GIVEN
a new keep by someone who no doubt felt that the shard is lacking in WTFOMG LEET PVP. I also learned, however, that cA was already on the case! A small town was being constructed around the new -F- keep. I went to check it out in person.
A good number of my guildmates were there: Ireland's finest, Paul Auger and Matron de Winter. A few -F- members were there as well, macroing away in the warmth and security of the keep provided by someone's charity and pity. It turns out, though, that keeps aren't necessarily so secure that Matron might not help a wandering energy vortex sneak in and say hello to MIKES TAMER LOL. (Yes, that is his name.)
Now, I think it is obvious to everyone that we have a deep and abiding love for -F-, who have not only contributed so much to the level of OMG LEET PVP on this shard, but also to a new sophisticated level of discourse on the forums. This love had instilled in us a deep seated need to demonstrate that very love: We would have to get them a gift! But what can you possibly give to someone who was just given a brand new keep? What deeds or goods could possibly compete with the anonymous UO Don Juan who has so quickly stolen the hearts and perhaps even---dare I suggest it?--the tender affections of -F-?
The answer, of course, is about one thousand wooden shields and several trapped boxes---all carefully stacked within the entrance to this keep---plus approximately one hundred cats---all named 'cA'---lined up outside, blocking entry from the outside. We topped it off with a few boats, blocking in their own boat.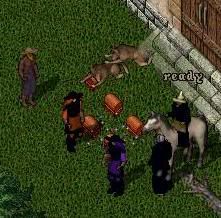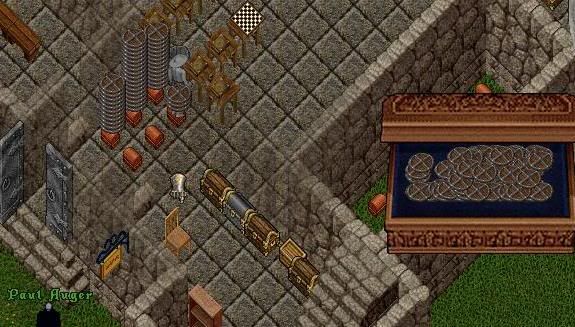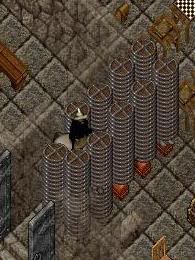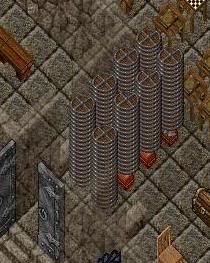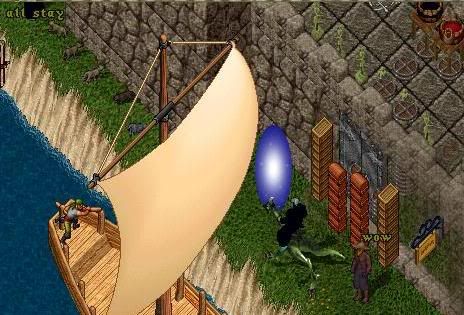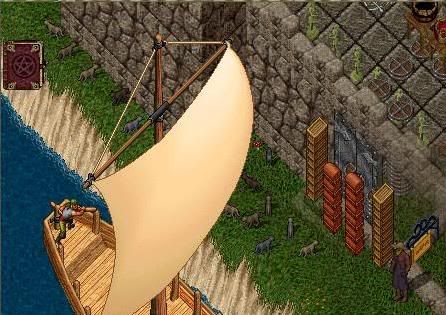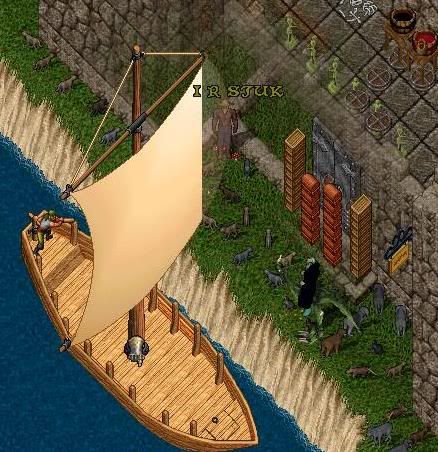 During the construction process, I wandered off to a nearby tower. A fellow who is unknown to me ran out. I expected trouble, but he merely said that he had heard of me. I ran away and called in the reserves. Paul Auger and I stealth up to opposites sides of the tower door, while Ireland, on a nearly dead and poisoned red alternate character, ran by. Predictably the lad in the tower sprung out in search of OMG PVP and PHAT LEWTS. We waltzed in, only to find very little worth taking: a map, some force weapons, a few hundred reagents.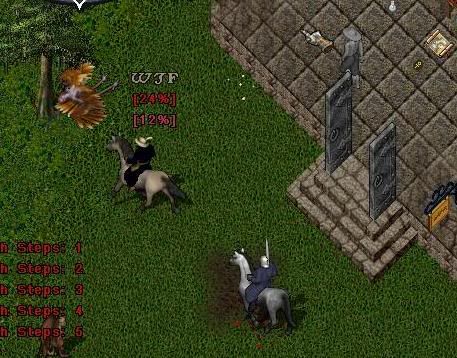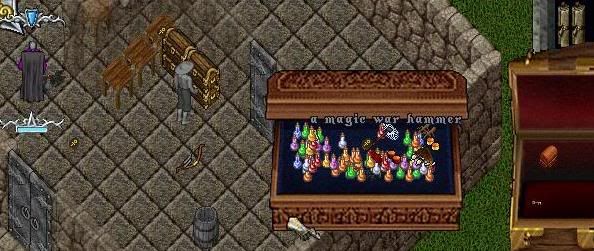 Good times were had by all, except perhaps the dead macroing -F- guildmember. Since he was macroing, no kind of time, good or bad, was had by him. I will not speculate here about the quality of the time of his return to his ghost macro. Also, I will say nothing of the time of the fellow who was looted. His time may or may not have been good. But I will report to you, though it pains me to speak of it, that the cA kitties were later brutally slaughtered, one and all, by an errant and bloodthirsty ogre. God bless those brave kitties. We will never forget.