I've been experimenting with building stairs lately with grandfathered footstools and happened upon an odd issue. A ghost character doesn't appear to "climb" properly when trying to walk up the "stairs". However, this seems to only be a client side issue, as another character watching the ghost sees him ascending the staircase just fine. The ghost character is able to walk through the stools, but it's Z axis doesn't appear to change. This is only an issue when attempting to climb over a wall. However, resyncing the ghost character (Alt+P) fixes the issue. See below:
Ghost character steps on first "step" (no change is Z axis is observed):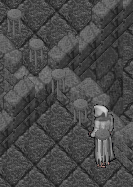 Ghost character walks along steps to a wall (still no apparent change in Z axis but can't continue walking forward due to the wall):
Same observation from a different character (ghost climbs the stairs without issue):
Switch back to ghost character and resync (Alt+P) (toon "jumps" to the correct Z location and can continue walking over the wall):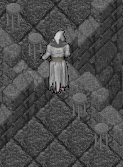 Clearly, this isn't a game breaking issue, but seems like something that might be nice to get fixed. As this seems to be client side, I'm guessing that would mean players having to reinstall an updated client, but I'm not sure how feasible that is.
The other possibility is that this issue is unique to me, so I'm curious if this happens to other players too. Comments welcome!