---
"Eye of newt and toe of frog, wool of bat and tongue of dog"
- A lesson in Herbology


Event Date:

Saturday, December 19th @ 2:00pm EST


Estimated time: 45 minutes




Meet at Magincia Bank to Gate to Luca's Place



Objective:

The house of

Magincia

has specifically requested a lesson on herbology. The Magincia Parliament has noted that magic users too often rely on the quick, cheap, and readily available reagents available at shopkeepers. This especially includes those from

Moonglow

. Students from both houses will compete to demonstrate their knowledge of herbology.



Herbology:

the careful growing and harvesting of herbs required for casting magical spells.

Types of reagents:

Black Pearl


These may be ground into a fine powder - an ignoble, yet potent end for so beautiful a stone. It is a common reagent in spells involving magical travel, distance, propulsion or projection.

Blood moss


A reddish fungus that is found mainly in marshlands and swamps. An unconfirmed rumor claims that it also grows between the toes of trolls. Blood Moss is commonly required for spells that focus on speed, animation, and locomotion.

Ginseng


The root of the plant should be boiled in the freshest water, cooled and brought back to a boil in fresh water no less than forty times. With the last boiling, it is transformed into a heavy, strong-smelling syrup. It is commonly used for spells that require healing and enhancement.

Garlic


For the purposes of magic, the bulb of the plant is washed, peeled and ground into a paste. It is used in spells that protect the caster or a target and ward off or dispel a danger or evil.

Mandrake Root


The powerful Mandrake inhabits the dimmest groves of dankest swamps. Once found, great care must be taken in uprooting it in order to keep the taproot intact, for the taproot is its locus of power. The exposed root is then carefully boiled and dried. Mandrake Root is used in spells involving strength, power and energy.

Sulfurous Ash


This pungent ash, created by violent volcanic disturbances, recalls the fiery and explosive energies of its origin. It is used in spells that create explosions, fire, or light.

Nightshade


The deadly Nightshade, another denizen of the swamps, was christened for its strange, waxen flowers, which only bloom at night. It should be carefully handled and prepared, for it is poisonous to the touch. For magical preparations, it is either crushed or brewed into a tea. As a reagent, nightshade focuses the powers of death, damage, poison and illusion.

Spider Silk


Spider's Silk is as common as spiders are, but as fine and light as air. Because of this, at least one ounce of it is required for a simple spell. The spider's silk concentrates the power to summon, conjure, and bind.
Assignment (3 points)
1. Arrive at the scheduled location with a blank book and a robe colored to represent your city's house in the academy. As with all events, please do not come with anything you do not mind losing.
2. Students from each house will have a task to perform. Successful completion of the task will result in the full amount of points.
3. The task itself will be revealed at the event.
Extra Credit! (5 points)
** Since this is at
Magincia's
request, a member of this house may choose to host the event at their house. It must be a safe, neutral location for all students. A magical theme, display of reagents, and seating arrangements will be required. This is a first come, first serve option for one Magincia student volunteer. (I will post a location by Friday night if I do not have a volunteer by then.)
------------------------------------------------------------------------


Event Summary:
Students met at Magincia Bank and were taken to Luca's Tower.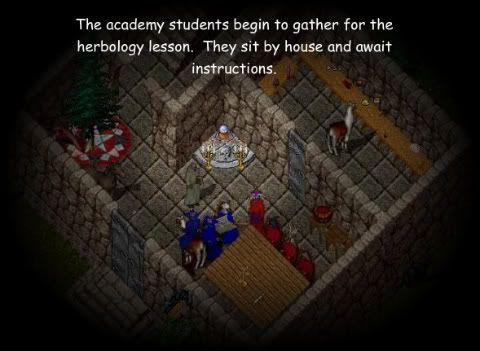 They were instructed to form a party with their house members and to conduct a risky research of reagents in Britannia. Their job was to work together with their house to seek out magic using monsters and record the type and amount of reagents they each posses. The event was timed, and the students must submit their research on time or they were disqualified. 2 Points are given for the first find for a reagent, and 1 point for every find afterward.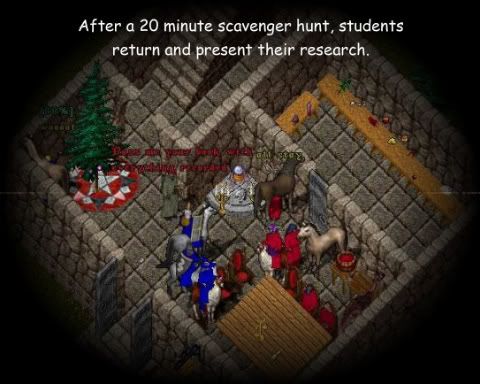 Suprisingly, every one came back and alive and unharmed. Both
Magincia
and
Moonglow
assured me there was no foul action between the houses. This time...
------------------------------------------------------------------------


Event Results: Magincia Wins!
Magincia: 45 Points!
Attendance: 18 points!


chainsoar - 3

Calista - 3
Caswallon - 3
Luca - 3
emac - 3
nickhimself - 3 (Need forum name)


Research: 27 points!


Black Pearl: 3 from water elemental (2 pts), 6 from evil mage (1 pt)
Blood moss: 6 from orc mage (2 pts), 6 from evil mage (1 pt)
Garlic: 23 from evil mage lord (2 pts), 6 from evil mage (1 pt), 3 from lich (1 pt)
Ginseng: 3 from lich (2 pts), 3 from drake (1 pt)
Mandrake Root: 3 from lich (2 pts)
Nightshade: 4 from gazer (2 pts), 4 from poison elemental (1 pt), 6 from evil mage (1 pt), 3 from lich (1 pt)
Spider Silk: 5 from giant spider (2 pts), 6 from orc mage (1 pt), 3 from lich (1 pt)
Sulfurous Ash: 5 from hell hound (2 pts), 3 from fire elemental (1 pt)
** 5 Bonus points added to total score only for hosting the Academy.
Moonglow: 34 Points!
Attendance: 12 Points!


moondoggie - 3

Elsinore - 3 (Need forum name)
Pristiq - 3
Blackfoot - 3


Research: 22 Points!


Black Pearl: 6 from evil mage (2 pts), 23 from evil mage lord (1 pt)
Blood moss: 6 from evil mage (2 pts), 23 from evil mage lord (1 pt)
Garlic: 23 from evil mage lord (2 pts), 6 from evil mage (1 pt)
Ginseng: 6 from evil mage (2 pts)
Mandrake Root: 6 from evil mage (2 pts)
Nightshade: 6 from evil mage (2 pts)
Spider Silk: 6 from evil mage (2 pts), 23 from evil mage lord (1 pt)
Sulfurous Ash: 23 from evil mage lord (2 pts), 3 from fire elemental (1 pt), 6 from orc mage (1 pt)