"Felix Felicis" - A lesson in Alchemy




Event Date:

Sunday, December 20th @ 4:00pm EST


Estimated time: 30-40 minutes




Meet at Moonglow Bank to gate to Blackfoot's Castle
Objective:
Even the most powerful of mages will find times when their spells fail them, or the haste of battle requires quick intervention. Academy students must be prepared for these situations before greater challenges befall them. Academic advisors from
Moonglow's Finest Alchemy
want to emphasize that the transformation of reagents to create gold is forbidden by Lord British.
Alchemy:
the art of creating transforming reagents into useful elixirs.
Assignment (3 points)
1. Arrive at the scheduled location with a robe colored to represent your city's house in the academy. As with all events, please do not come with anything you do not mind losing.
2. This task will have two skill groups that will compete.

30 alchemy required skill group
95 alchemy required skill group
3. The task itself will be revealed at the event. Students will have time before beginning to organize their house's team. Points will be awarded for participation. Bonus points will be awarded for House wins.
Extra Credit! (5 points)
** To appease
Moonglow
in the fairness of the Wizard's Cup, a member of this house may choose to host the event at their house. It must be a safe, neutral location for all students. A magical theme, display of reagents/potions, four sets of tables with chairs for competition, and a couple secures for storage. This is a first come, first serve option for one Moonglow student volunteer. (I will post a location by Saturday night if I do not have a volunteer by then.)
------------------------------------------------------------------------


Event Summary:
Students met at Moonglow Bank and were taken to Blackfoot's Castle.
The lower bracket was instructed to make strength potions, and the upper bracket was going to make deadly poison. The first team to a full keg would win the lower or upper bracket. The headmaster showed the students around the lab and...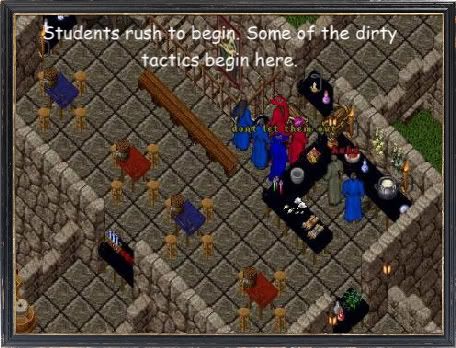 Soon after starting, students' hands flew up and there was trouble for some to empty their potions into the kegs. Some quick thinking and some extra teamwork solved this problem.
Moonglow takes a quick win on the lower bracket for +10 points
Magincia takes the win for the upper bracket for +20 points
------------------------------------------------------------------------


Event Results: Magincia Wins!
Magincia: 37 Points!
Attendance: 15 points!


chainsoar - 3

Calista - 3
Caswallon - 3
Luca - 3
emac - 3


Bonus Points: 22 Points!


20 points for winning the upper bracket.
2 bonus points for fast responses to questions
Moonglow: 26 Points!
Attendance: 14 Points!


moondoggie - 3

Zanobi - 3
Pristiq - 2 (tardy!)
Rose - 3
Drazaos - 3


Bonus Points: 12 Points!


10 points for winning the lower bracket.
2 points for fast responses to questions and requests.

** 5 additional points to Moonglow's total score for hosting the event. Thanks again Blackfoot!