Moschettiere thanks for the PMs, should have your ingots @ 7.50/ea. this morning.
Current Prices as of 7/13/16
Bulk rate @available upon request for 10k+
Rate for 1-10k @8per
100 stacks @8.25per
Currently Supply at above pricing
20k+ future
bulk rates negotiable via PM only
, once agreed upon I can post on this thread.
Bulk Rate Calculations/Estimates
Attachment: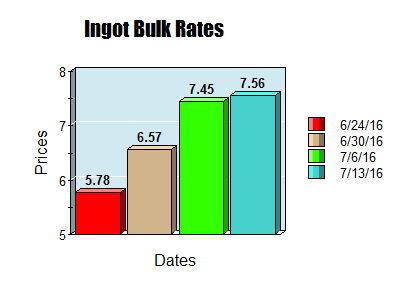 vbar_2899670A.png [ 11.34 KiB | Viewed 1483 times ]
Actual price @7.56/ea. (currently trading at 7.50) as of 7/13/16