Pirul wrote:
I do suggest training them together, BUT you might want to at least buy med to 30, and use
the drunk med macro
to raise it to around 50-55 in a couple of hours, so you start with all of them at roughly the same skill level.
After that, I use
this macro
to work the 3 skills. For an easier way of figuring out when to med, you can also follow
the chart
attached in that post.
And, as always, remember the only safe spot is the exact middle tile of the house, (where the club is in yours).
+1. You'll need a second healer, of course-- good opportunity to train another character's healing skill

. I followed the wiki when it came to which spell to cast at what skill level, and it worked fine.
I made this kind of crazy macro a few days ago to use drink yourself to GM meditation without doing anything but filling your bag full of bottles of liquor and training it up from a vendor.
EDIT: Don't forget the regular leather armor! (I did when I wrote this, heh)
Haven't tested it. Want to test it? Let me know how it works. In order to use it, you need to CHECK this box:
Attachment: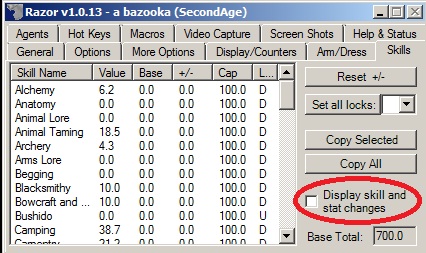 skills.jpg [ 67.19 KiB | Viewed 3882 times ]
If you need to stop the macro (or it breaks somehow), then to start it again, left click and THEN right click the For loop below the "if SysMessage == <skill level>" for the skill level that you HAVE attained (e.g. if you have 43.1 meditation, then you should go for the for loop below "if SysMessage = 40.0"), and then select "Play from here"
And no, I didn't record this beast. I copied and pasted most of it in notepad++.
The funny thing is... it's just crazy enough to work.


Code:
!Loop
Assistant.Macros.IfAction|1|1|90
Assistant.Macros.DoubleClickTypeAction|2459|True
Assistant.Macros.PauseAction|00:00:20
Assistant.Macros.HotKeyAction|1059|
Assistant.Macros.ElseAction
Assistant.Macros.UseSkillAction|46
Assistant.Macros.SpeechAction|2|549|3|ENU|0|*hic*
Assistant.Macros.PauseAction|00:00:10.5000000
Assistant.Macros.EndIfAction
Assistant.Macros.IfAction|4|0|35.0
Assistant.Macros.ForAction|99999999
Assistant.Macros.IfAction|1|1|85
Assistant.Macros.DoubleClickTypeAction|2459|True
Assistant.Macros.PauseAction|00:00:20
Assistant.Macros.HotKeyAction|1059|
Assistant.Macros.ElseAction
Assistant.Macros.UseSkillAction|46
Assistant.Macros.SpeechAction|2|549|3|ENU|0|*hic*
Assistant.Macros.PauseAction|00:00:10.5000000
Assistant.Macros.EndIfAction
Assistant.Macros.IfAction|4|0|40.0
Assistant.Macros.ForAction|99999999
Assistant.Macros.IfAction|1|1|80
Assistant.Macros.DoubleClickTypeAction|2459|True
Assistant.Macros.PauseAction|00:00:20
Assistant.Macros.HotKeyAction|1059|
Assistant.Macros.ElseAction
Assistant.Macros.UseSkillAction|46
Assistant.Macros.SpeechAction|2|549|3|ENU|0|*hic*
Assistant.Macros.PauseAction|00:00:10.5000000
Assistant.Macros.EndIfAction
Assistant.Macros.IfAction|4|0|45.0
Assistant.Macros.ForAction|99999999
Assistant.Macros.IfAction|1|1|75
Assistant.Macros.DoubleClickTypeAction|2459|True
Assistant.Macros.PauseAction|00:00:20
Assistant.Macros.HotKeyAction|1059|
Assistant.Macros.ElseAction
Assistant.Macros.UseSkillAction|46
Assistant.Macros.SpeechAction|2|549|3|ENU|0|*hic*
Assistant.Macros.PauseAction|00:00:10.5000000
Assistant.Macros.EndIfAction
Assistant.Macros.IfAction|4|0|50.0
Assistant.Macros.ForAction|99999999
Assistant.Macros.IfAction|1|1|70
Assistant.Macros.DoubleClickTypeAction|2459|True
Assistant.Macros.PauseAction|00:00:20
Assistant.Macros.HotKeyAction|1059|
Assistant.Macros.ElseAction
Assistant.Macros.UseSkillAction|46
Assistant.Macros.SpeechAction|2|549|3|ENU|0|*hic*
Assistant.Macros.PauseAction|00:00:10.5000000
Assistant.Macros.EndIfAction
Assistant.Macros.IfAction|4|0|55.0
Assistant.Macros.ForAction|99999999
Assistant.Macros.IfAction|1|1|65
Assistant.Macros.DoubleClickTypeAction|2459|True
Assistant.Macros.PauseAction|00:00:20
Assistant.Macros.HotKeyAction|1059|
Assistant.Macros.ElseAction
Assistant.Macros.UseSkillAction|46
Assistant.Macros.SpeechAction|2|549|3|ENU|0|*hic*
Assistant.Macros.PauseAction|00:00:10.5000000
Assistant.Macros.EndIfAction
Assistant.Macros.IfAction|4|0|60.0
Assistant.Macros.ForAction|99999999
Assistant.Macros.IfAction|1|1|60
Assistant.Macros.DoubleClickTypeAction|2459|True
Assistant.Macros.PauseAction|00:00:20
Assistant.Macros.HotKeyAction|1059|
Assistant.Macros.ElseAction
Assistant.Macros.UseSkillAction|46
Assistant.Macros.SpeechAction|2|549|3|ENU|0|*hic*
Assistant.Macros.PauseAction|00:00:10.5000000
Assistant.Macros.EndIfAction
Assistant.Macros.IfAction|4|0|65.0
Assistant.Macros.ForAction|99999999
Assistant.Macros.IfAction|1|1|50
Assistant.Macros.DoubleClickTypeAction|2459|True
Assistant.Macros.PauseAction|00:00:20
Assistant.Macros.HotKeyAction|1059|
Assistant.Macros.ElseAction
Assistant.Macros.UseSkillAction|46
Assistant.Macros.SpeechAction|2|549|3|ENU|0|*hic*
Assistant.Macros.PauseAction|00:00:10.5000000
Assistant.Macros.EndIfAction
Assistant.Macros.IfAction|4|0|70.0
Assistant.Macros.ForAction|99999999
Assistant.Macros.IfAction|1|1|35
Assistant.Macros.DoubleClickTypeAction|2459|True
Assistant.Macros.PauseAction|00:00:20
Assistant.Macros.HotKeyAction|1059|
Assistant.Macros.ElseAction
Assistant.Macros.UseSkillAction|46
Assistant.Macros.SpeechAction|2|549|3|ENU|0|*hic*
Assistant.Macros.PauseAction|00:00:10.5000000
Assistant.Macros.EndIfAction
Assistant.Macros.EndForAction
Assistant.Macros.EndIfAction
Assistant.Macros.EndForAction
Assistant.Macros.EndIfAction
Assistant.Macros.EndForAction
Assistant.Macros.EndIfAction
Assistant.Macros.EndForAction
Assistant.Macros.EndIfAction
Assistant.Macros.EndForAction
Assistant.Macros.EndIfAction
Assistant.Macros.EndForAction
Assistant.Macros.EndIfAction
Assistant.Macros.EndForAction
Assistant.Macros.EndIfAction
Assistant.Macros.EndForAction
Assistant.Macros.EndIfAction