I've had a lot of interest recently from players both old, returning and new alike that want to get their hands on some of the servers history!
As such, I've decided to put together an auction that will get anyone started on creating a very nice deco set for any place they'd like to setup!
Starting Bid:
Castle Deed

The auction will run through
February 13th
, just in time for
Valentines Day!
A complete list of what's included is at the bottom (there's alot so I might have missed an items or two!)
Attachment: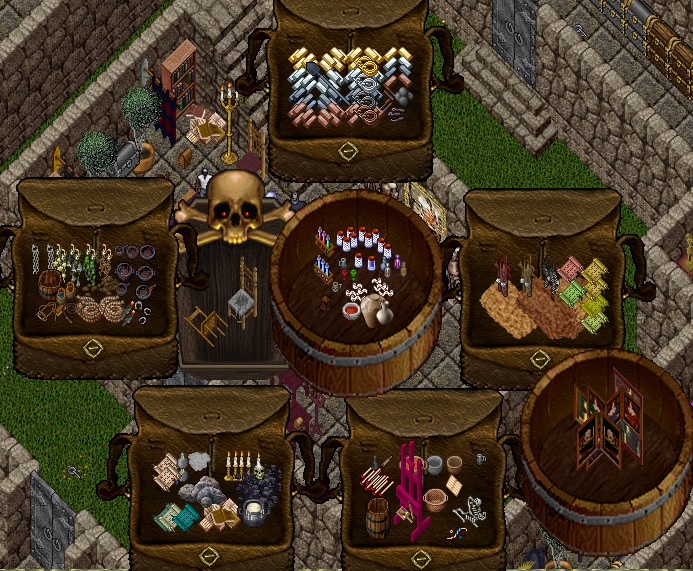 Rares and Semi Rares.jpg [ 237.25 KiB | Viewed 1950 times ]
Complete Gold Ingot Set (6 items)
Complete Silver Ingot Set (6 items)
Complete Iron Ingot Set (6 items)
Complete Copper Ingot Set (6 items)
Complete Wire Set (8 items, 2 of each)
A Virtually Indestructable Shovel
CANNON BALL
Lockpicks (3 items, 2 different types - all rare/semi)
Complete Jar set (5 items)
Incomplete Bottle set (4 items)
Vial Set (2 items Full/Empty)
Bloody Bandage Set (2 sets of 2)
Bloody bowl
Vases (2 items Large/Small)
a Helm of the Hunt (Orangish Norse Helm)
Broken Chairs (2 items)
Cups (4 items - Pewter Mug, Red Champagne glass, Green Champagne glass, Skull Mug)
Furs (4 different pairs of 2)
Hanging Armor (Leather Legs, Studden Legs, Studded Sleeves)
Holiday Cards (5 different cards)
A bank check 5000
Arrows (2 items)
a flour sifter
wooden bowl
pewter bowl
tomato soup
bushel
a rolling pin
Liberty Bell
Music Sheet
Bone Container
Pre-Patch Easel (hot pink color!)
paints and brush
beads
Coal (2 items)
Skull Candal
Pot of Wax
Candle (4 items)
damaged books
rocks (2 items, different types)
disguide kit!!! (4 items, NCD, hair restyling deed, beard cream, hair dye!)
snow
Wreath Deed (2 items, different colors Note: they're dyeable)
Christmas Tree deed
Complete Dirty Pot set (7 items, all different!)
2 Complete sets of herbs for the full effect!
2 Complete sets of Rope!
2 Chains
1 of each painting type (can provide more to the winner if needed - no you're not getting the tapestry!)
2 Forged Metal
1 Whip
1 Brush
1 Horse shoes
1 Bridle
2 types of Horse Dung
1 Bucket of water
1 Easter Basket (looks like the bucket of water, without water - holds items!)
Empty Tub
Let the bidding wars commence!